We can help and advise on Devon website design and Devon web page creation. Our professional Devon web site designers can give you the advice you need to succeed.
Which package is for you?
Do you need a simple new website?
Very few or no updates at all?
Crisp design with a professional look? Search engine optimised?
Then you need our basic starter pack.
Do you need an ecommerce shop?
You have 50 or less products?
You do not have a merchant account?
You do not want to spend a fortune?
Then try our Paypal shop.
Do you have hundreds of products?
Do you want a Froogle data feed?
You want full control over the website? You want a client newsletter feature? Want to use your merchant account? Then try our ecommerce solutions.
You do not need an online shop?
You want control over the website?
Then you need our CMS.
You need a business or personal blog?
You want it linked to your website?
You want industry standard software?
Then try one of our blogs.
Latest static website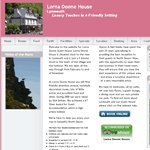 Lorna Doone House is a local family run guest house that offers bed & breakfast in the beautiful seaside resort of Lynmouth on the Exmoor coastline in North Devon.

We are currently upgrading their existing site to s CMS.
Latest ecommerce site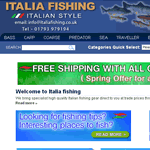 Italia Fishing specialises in high quality Italian fishing gear brought direct to the public at trade prices.


The website is owner maintained using Zen Cart open source software that includes a Froogle feed, XML Sitemap, RSS feeds and an image Lightbox system.