We can help and advise you on all areas of website design and web page creation. Business, personal site or Blog, we have the advice you need to succeed.
Which package is for you?
Do you need a simple new website?
Very few or no updates at all?
Crisp design with a professional look? Search engine optimised?
Then you need our basic starter pack.
Do you need an ecommerce shop?
You have 50 or less products?
You do not have a merchant account?
You do not want to spend a fortune?
Then try our Paypal shop.
Do you have hundreds of products?
Do you want a Froogle data feed?
You want full control over the website? You want a client newsletter feature? Want to use your merchant account? Then try our ecommerce solutions.
You do not need an online shop?
You want control over the website?
Then you need our CMS.
You need a business or personal blog?
You want it linked to your website?
You want industry standard software?
Then try one of our blogs.
Blogging in the 21st century.
Blogging has probably been the most successful user interactive success story for the web to date!.

Personal and business blogs are probably the most common web pastime on the internet at the moment. As reality TV shows are to television, blogs are to the web. There are millions of blogs being written every day, and millions of people subscribing to, commenting on and reading those blogs as well.

When I say all the big players have blogs . . . . I MEAN ALL THE BIG PLAYERS HAVE BLOGS!

Microsoft, Google, Adobe , PCWorld and BT all have blogs.

Big business has realised that blogging as a business tool can be invaluable on may levels. It can keep your customers updated as to new products and services, it can act as on online " sounding pad " for new ideas and products, enabling your clients to make comments about what you write.

It can be as big or as little as you want to make it, and both you and your clients/blog visitors can spread your content all around the web via Blog feeds and links.

" Blogs can we powerful tools in the right hands! "
We at Websites for Devon have successfully implemented a number of different blogs over the years and have a few different Blog systems that we like.
To this end we will be adding 4 demo blogs to the site very soon.
There are many places around the Net that you can get a basic blog for free, but we will install a blog of your choice for you with a "blog.yourdomainname.co.uk" URL for you, for a one time price of £49 ( this includes header and basic css colour branding as per your actual website ).
Latest 8 page static website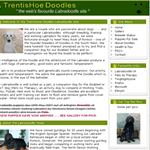 Anydoodle Labradoodle website is dedicated to the breeding and ownership of Labradoodle puppies and utilizes an 8 page static design.


Read all about keeping Labradoodles and get tips on health, fitness and general wellbeing.
There are puppies for sale, as well as a cute gallery of current Labradoodle pictures from the website owner.
Latest ecommerce site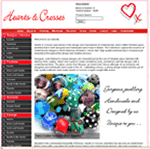 Hearts and Crosses is a website that specialises in bespoke jewellery for weddings and special occassions, and is handmade on the heart of Exmoor.


The website is owner maintained using our EZcart software that includes a Froogle feed, XML Sitemap, RSS feeds and an image Lightbox system.